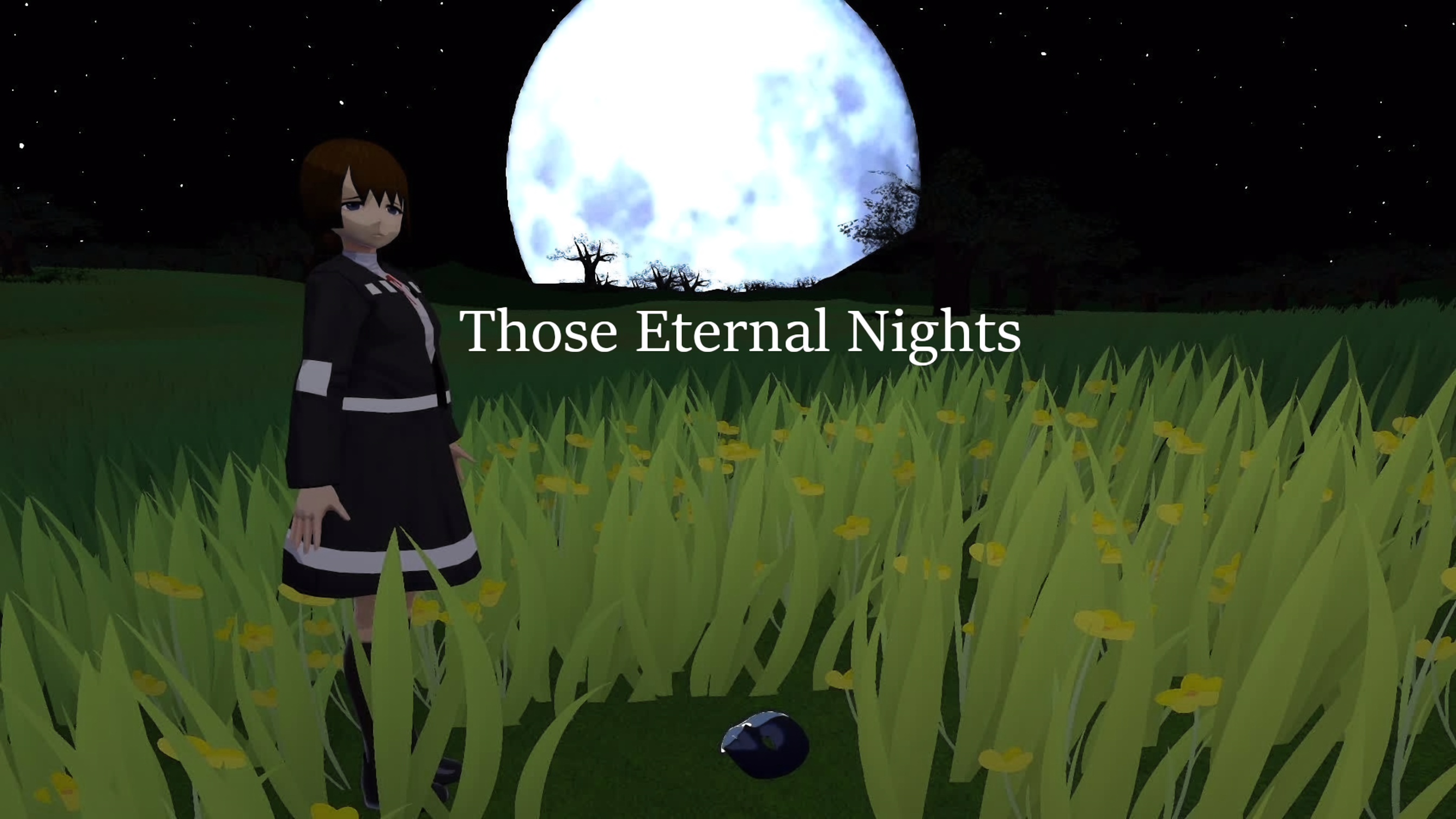 Those Eternal Nights
A downloadable game for Windows
Luz awakens and finds herself in a mysterious field. She is unsure of how she got there but one thing is for certain, the strange entities will not let her leave. At least not until she participates in the "trial" they have prepared for her...
Battle as Luz using an action RPG battle system inspired by games like Kingdom Hearts, Nier: Automata, and Final Fantasy 7 Remake. See how many waves you can survive against the onslaught of enemies that will be thrown at you.
Controls (Keyboard/Xbox Controller)
WASD/Left Stick - Move
Mouse/Right Stick - Camera
Left Shift/Left Stick Button - Sprint
E/B - Interact/ (Leave menu for controller) (Confirm menu for keyboard)
BackSpace - Leave Menu
Middle Mouse Click/Left Bumper - Lock On
Tab/Click in Right Stick - Switch Target
LMB/X - Attack/Command Slot 1
Left Control/Right Bumper - Dodge Roll
Left Alt/ Left Trigger - Command Menu
F/D-Pad Right - Switch Weapon/Command Menu Pages
C/D -Pad Down - Switch Between Spells and Items
RMB/Y - Command Slot 2
E/B - Command Slot 3
R/A - Command Slot 4
Planned Features

- A fully fleshed out RPG story
- Environments to explore and battle in
- Additional party members

- A Persona style calendar system and relationship system
- A Final Fantasy Tactics style job system
- A plethora of spells and items to use in combat
- And much more!
Music Used
- Soliloquy written, performed, mixed, and mastered by Matthew Pablo
- Licking Wounds written, performed, mixed, and mastered by Viktor Kraus
NOTE: This is an extremely early prototype made to test out the combat system of the game. Many of the planned features (Job system, Weapon switching, menus, the entirety of the story, etc.) have not been fully implemented. I would love to hear any feedback you have on the game. If you want to support this game's development please consider donating. Thank you!
Download
Click download now to get access to the following files:
Those Eternal Nights 0.1.1.zip
80 MB
Comments
Log in with itch.io to leave a comment.
This game was really fun. The controls were quite simple. The gameplay was pretty cool too with the magic system, stats basic attacks and evasive mechanics. It was interesting how I could somewhat do a basic attack into roll cancel and continue the basic attack combo. It was super neat. Although this is a prototype it looks like a really fun wave action rpg. Can't wait for the full release :D